We love SMB shippers. Learn why they love us too!
If you're considering purchasing a logistics franchise, it's important to choose a company that offers real value to its customers. No one wants to sell an unnecessary service! That's why, at Unishippers, our goal is to provide small and mid-sized businesses (SMBs) with more value for their shipping dollar. And judging by our 115,000+ customers (and counting!), it's clear we're doing something right. Browse through our Resource Center to learn why shippers choose Unishippers — and why you should too.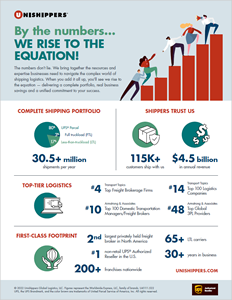 Unishippers by the Numbers
The numbers don't lie! When you add up all of the value we provide our SMB customers, you'll see that Unishippers truly rises to the equation. Don't believe us? Download "Unishippers by the Numbers" and find out why Unishippers is a powerful partner for SMB shippers — and a powerful service offering to sell as a franchisee.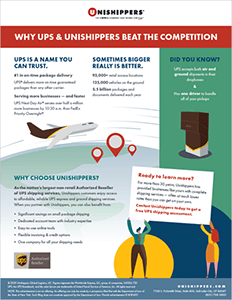 Why UPS® & Unishippers Beat the Competition
Through our long-standing relationship with UPS — one of the nation's largest and most trusted small package shipping companies — our franchisees deliver the savings and solutions SMBs truly need. As part of the nation's largest non-retail Authorized Reseller of UPS shipping services, we're sure to have an affordable solution for SMB's parcel shipping challenges — plus the expertise to make it happen. Download our infographic to learn why UPS and Unishippers are a winning combination.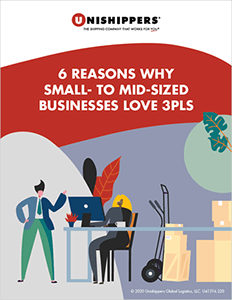 6 Reasons Why SMBs Love 3PLs
Third-party logistics (3PL) companies like Unishippers help SMBs solve (and even avoid) complex shipping challenges in our ever-changing landscape. And as the shipping industry continues to grow, more and more SMBs are starting to work with 3PLs in order to find smarter ways to ship their goods — meaning our franchisees consistently offer value to their customers! Download our e-guide to get a quick look at the six most common shipping challenges that SMBs face and how a 3PL like Unishippers helps solve them.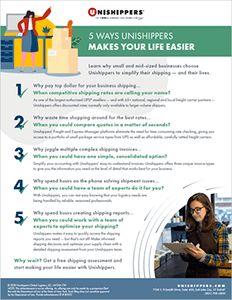 5 Ways Unishippers Makes Life Easier
Wondering why SMBs choose to work with Unishippers? To put it simply, we help SMBs simplify their shipping (and their lives). As a Unishippers franchise owner, you get the satisfaction of helping SMBs solve their most complex shipping challenges with the help of our comprehensive, easy-to-use solutions. Download our infographic to learn exactly how Unishippers makes life easier for our SMB customers.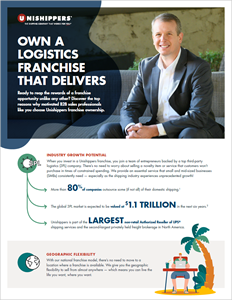 The Benefits of Unishippers Franchise Ownership
Ready to reap the rewards of a franchise opportunity unlike any other? From the shipping industry's huge growth potential to our franchise's low start-up costs (and so much more!), this is an opportunity you won't want to miss out on. Download our tip sheet to discover the top six reasons why motivated sales professionals like you choose Unishippers franchise ownership.
Your Fast Track to Success, Backed by the Best in the Business
We know that starting your own business is a big decision. That's why we provide the unmatched support, resources and training our new franchisees need to hit the ground running. From joining our supportive company culture to diving into the logistics industry during a time of unprecedented growth, you'll be on the fast track to future success. Check out the videos below to find out why starting your own Unishippers franchise is the opportunity of a lifetime!
A unique sales opportunity is waiting for you!
You know why SMBs choose Unishippers for their business shipping. Now it's time to find out why sales professionals like you choose to own a Unishippers logistics franchise!